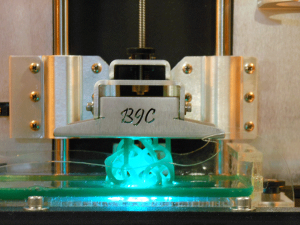 Nos juntamos unos 30 en el Ateneu de Fabricació, para hacer una introducción a las impresoras de resina para montar una entre todos los que estén interesados en hacerla y a partir de ese modelo hacerse cada uno las suyas y/o mejorar el diseño.
Reunión:
Resumen de los temas tratados:
Modelo: hay que definir cuál. Propuesta mirar los Bill of Materials de las impresoras open source conocidas: b9creator (sin espejo), la de Tristán en Instructables (con espejo), otras open source… Se acuerda hacer un pequeño estudio de mercado.
Recomendación de empezar montando una sola impresora y si puede ser probada, para familiarizarnos con la tecnología.
Se acuerda que no nos podemos meter a hacer 30 impresoras a la vez porque en realidad están todavía en modo prototipo y es demasiado arriesgado. Mejor probar con una primero, hacer un prototipo que funcione y a partir de esa base construir otras y mejorar el diseño.
Financiación: Abrimos Excel en Gdrive para poner quién contribuye y con qué importe o pieza. Quien quiera donar piezas mejor.
El fichero aquí.
El fichero tiene dos hojas: los Bill of Materials de cada impresora, y los donantes y qué donan, si piezas o un importe.
En el caso de piezas y materiales se ha comentado que podríamos hacer las primeras pruebas si conseguimos resina y un proyector i empezar a "trastear".
La parte fundamental de este tipo de impresoras  se basa en el proyector, por lo que se ha visto en la reunión se necesita un proyector del tipo DLP, contra mas resolución mejor, aunque también se tienen que tener en  cuenta la distancia focal del proyector.
Las imágenes que proyectaremos para hacer la piezas estarán muy cerca de la resina se necesita poder enfocar en distancias cortas, también se ha hablado de la cantidad de lúmenes del proyector.
Otros proyectos:
En la reunión del 23/10/2013 se habló también de hacer otro proyecto aparte del de la impresora de resina se definieron dos proyectos principales, un submarino basado en el open rov o un dron que sea open source, se realizó una encuesta en el grupo de meetup con las dos opciones Y una tercera por si surgía algo distinto.
El proyecto de construir un dron open source es el que más votos ha recibido con un 94% por lo que se tirara adelante este proyecto, se creara un futuro evento para tratar el tema ya que este proyecto va aparte del de la impresora de resina.
ToDo list:
Seguimos necesitando un diseño para el logotipo, se necesita hacer una recopilación de los modelos i hacer una votación, todavía se aceptan propuestas!!!
Debatir métodos con los que podamos autofinanciarnos para así poder tirar adelante más proyectos, workshops… Hace dos semanas se hicieron varias propuestas:
○     Micro talleres para adaptar/mejorar impresoras (ej. añadir LCD para Prusa i3).
○     Hacer talleres introductorios de arduino. (Está previsto hacer uno en dos semanas, el miércoles día 20/11/2013).
Se necesitan mas propuestas.
La conversación sigue en la lista de correo de nuestro GoogleGroups.